With days to go before we welcome 2011, let's see some of the odd, crazy moments captured from around the world this year.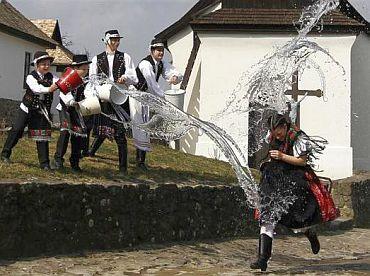 A girl runs as boys throw water at her as part of traditional Easter celebrations during a media presentation in Holloko, 100 km (62 miles) east of Budapest, March 26. Locals from the World Heritage village of Holloko, northeast Hungary, celebrate Easter with the traditional "watering of the girls", a fertility ritual rooted in Hungarian tribes' pre-Christian past, going as far back as the second century after Christ.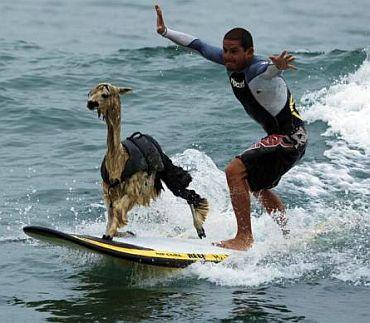 Peruvian surfer Domingo Pianezzi rides a wave with his alpaca Pisco at San Bartolo beach in Lima March 16. Pianezzi has spent a decade training dogs to ride the nose of his board when he catches waves, and now he is the first to do so with an alpaca.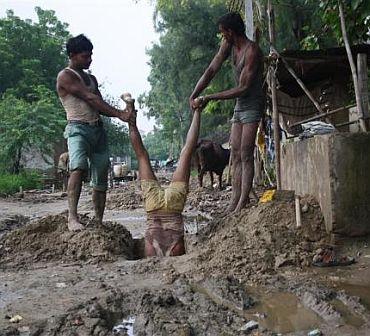 Labourers hold their colleague to install underground electric cables on a roadside at Noida, Uttar Pradesh, on August 27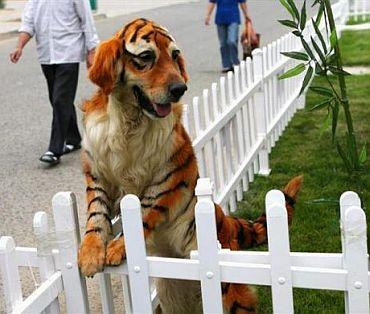 A Golden Retriever, dyed to look like a tiger, plays at the Dahe Pet Civilization Park in Zhengzhou, Henan province June 8. The park bought the Golden Retriever and four Chow Chows, dyed to resemble pandas, from a pet market in Sichuan as an attempt to attract visitors, local media said.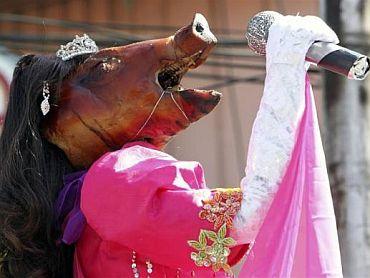 A roasted pig dressed as a singer is seen during the annual Lechon (roasted) pig parade in La Loma, Quezon city, metro Manila May 16. Participants, many from Lechon shops, dress up roasted pigs to advertise their shops.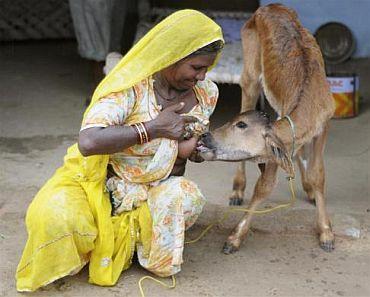 Chouthi Bai breastfeeds her twenty-day-old pet calf in her residence at Kilchu village, near Bikaner, in the desert Indian state of Rajasthan August 21. Bai has become an attraction in Kilchu village and receives many visitors curious to see her caring for her pet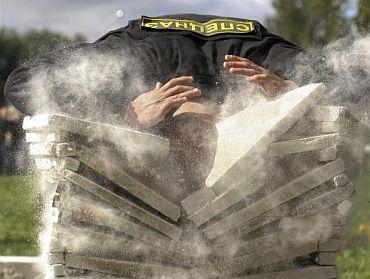 A officer from a special unit of the Ministry of Internal Affairs shows his skill before an annual relay race in Minsk, Belarus, September 4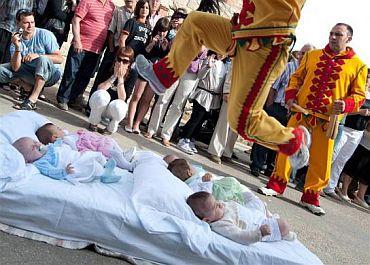 A man dressed in a red and yellow costume representing the devil, known as El Colacho, jumps over babies placed on a mattress during traditional Corpus Christi celebrations in Castrillo de Murcia, near Burgos, northern Spain June 6. The northern Spanish town has for centuries chosen to protect its young from evil spirits with the unusual ritual in which a man dressed as the devil leaps over mattresses each holding four or five babies.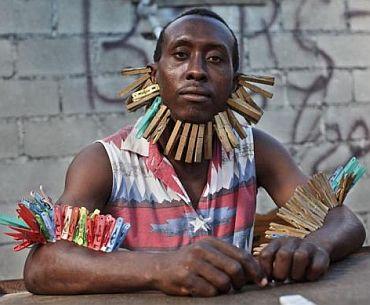 An earthquake survivor poses for a photo while he plays a table game called dominoes at the Cite Soleil slum in Port-au-Prince March 18. The man is covered in clothing clips as a penalty for losing multiple hands of the game.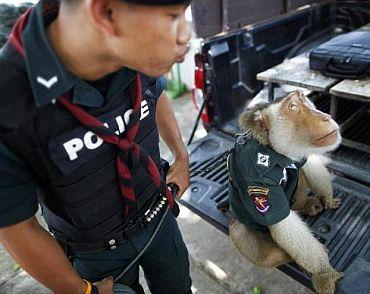 Santisuk ("peace" in Thai language), a five year old pig-tailed macaque monkey, wears a police shirt as he sits at the back of a patrolling vehicle in Saiburi district in Yala province in southern Thailand April 1, 2010. The monkey, who was found injured and adopted by local policemen, goes dressed in uniform on patrol every day to help improve force's image and relations with population in troubled predominantly Muslim province, policemen who man the animal said.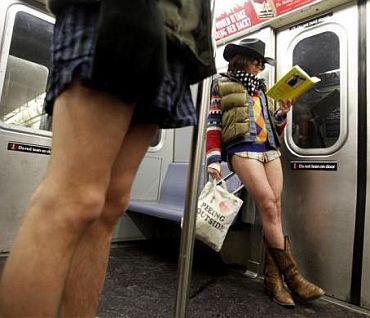 CK Sweet, 27, reads a book as he rides the train during the 9th Annual No Pants Subway Ride in New York City January 10. The event organised by Improv Everywhere involves participants who strip down to their underwear as they go about their normal routine.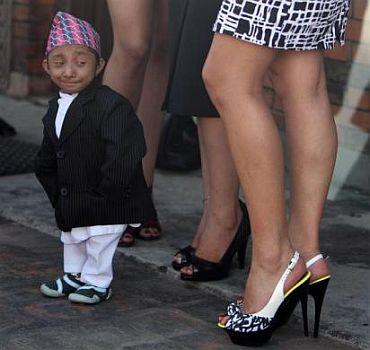 Khagendra Thapa, the world's shortest man, looks at the legs of Miss Nepal beauty pageant winners during a news conference in Kathmandu September 24. The Nepal Tourism Board has nominated Thapa and Miss Nepal beauty pageant winners as goodwill ambassadors to promote tourism in Nepal. Thapa will carry the message: "Shortest man in the world from the highest mountain in the world invites you to visit Nepal".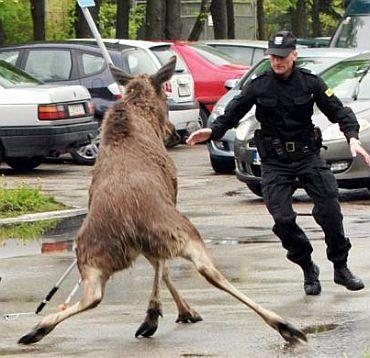 A policeman tries to divert a female moose into a net during an organised catch after she accidentally entered the suburbs of Lublin, Poland. The moose was later released back into the forest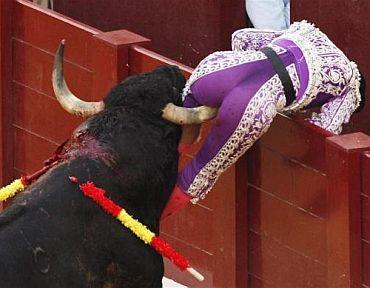 Spanish banderiller Pedro Muriel is gored by a bull during a bullfight at the Malagueta bullring in Malaga August 22. Banderillers are bullfighter's assistants whose role is to weaken the bull's massive neck and shoulder muscles using harpoon pointed sticks known as banderillas (little flags). Muriel was gored in the right thigh but his wound was not serious, said his manager Ignacio Gonzalez to the magazine Mundotoro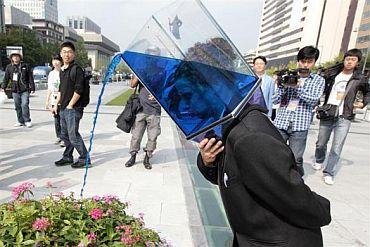 A performer wearing a transparent box with water pours water on flowers as she wanders around the street during her group's street performance "Waterheads", as a part of the Hi Seoul Festival 2010 in central Seoul October 6. The performance was created and performed by Australian street performance group Erth. 
Fourteen-year-old Elisany Silva, who measures 2.06 meters (6'9") tall, plays with her sisters and a friend on Ajuruteua beach in Braganca in the Brazilian Amazon state of Para August 29. Elisany, one of the world's tallest teens who was forced to quit school because she became too big to ride the bus, now dreams of becoming a famous fashion model.